The Secret to Building your YouTube Audience
Get it FREE!
This eBook is completely free to anyone who is a Video Creators Insider! Not already an Insider? Then you can become one by joining us for FREE!
I'll regularly send you exclusive content to help you…
Effectively communicate your message with online video
Master the YouTube platform
Build your audience
Stay up-to-date on the latest changes to YouTube
And much more!
Often we also include exclusive downloads, updates, and other information that are only available to Insiders.
A 6-Step Process
Online video isn't what it used to be.
Years ago the landscape was so wide open that communicating your message with online video was relatively simple, but now every minute there are several days worth of video content being uploaded just to YouTube alone.
As this space becomes more and more cluttered every day, there is more and more competition for viewers than ever before.
So how do you cut through all the noise to build your YouTube audience?
The answer is actually quite simple, yet so many video creators miss it. And even those who do execute this solution often do so poorly, leaving a wide gap for other creators to steal the attention.
This ebook outlines a 6-step process that will help you effectively build your audience on YouTube and use online video to communicate your message to the people who need to hear it. Through these steps you'll learn how to convert passive viewers not only into subscribers, but into an engaged and interactive community.
It's Not About Tips and Tricks
There is a lot written on this topic already, but most of it focuses on practical tips, tricks, and best practices, all of which are extremely valuable and important.
But this book doesn't get into all that because if everyone practices all the tips, tricks, and best practices, then the playing field is level again.
Instead, The Secret to Building Your YouTube Audience goes a layer deeper. It asks a series of questions about you, your content, your motives, your audience, and more. How you answer those questions will determine how successful your videos become. In fact, it even helps you understand "success" for your efforts outside of views and money, both of which are actually just symptoms of something else.
What People Are Saying About It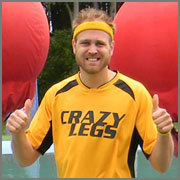 Mike Conley, YouTube Creator
In April of 2012 I decided to try and improve my dormant, faceless YouTube Channel to increase revenue and exposure in a crowded marketplace. I had no idea how to do that and floundered around for a couple of months until I found Tim Schmoyer.
Though his teachings I learned that it was not revenue and exposure I should be chasing. Instead, I needed to focus on subscribers, engagement and community. By employing his techniques I quickly saw my channel explode to heights I never thought possible.
In this ebook, Tim breaks down 100's of his teachings into a compact action plan that can take your channel to the next level. This ebook will also help you grow personally and get more satisfaction out of your YouTube creator experience.
Since numbers don't lie, here are some actual stats from my YouTube Channel from before and after the "Schmoyer Factor."
| | Subscribers | Comments | Likes | Favorites | Shares | Views |
| --- | --- | --- | --- | --- | --- | --- |
| June 2012 | 1,378 | 4,990 | 5,791 | 2,735 | 431 | 5,528,258 |
| June 2013 | 12,132 | 19,867 | 27,883 | 11,286 | 1,194 | 20,835,707 |

"Tim has his pulse on what works on YouTube, and provides strategic and practical advice for building and sustaining an audience. He uniquely approaches the medium with a deep understanding how authenticity helps connect a creator with others. It's no wonder he's the go-to expert for new and experienced video creators."
~ Kevin Nalty, Author of, "Beyond Viral," Founder of Nalts Consulting, and YouTuber with a quarter million subscribers

"Any artist or brand looking to build personal brand equity or their business on YouTube need to read the Video Creators Video Strategy Ebook!"
~ Benny Luo, Founder and CEO of NewMediaRockstars

"I'm happy to say this ebook was a refreshing break from the typical "secret to YouTube success" book. Tim doesn't purport to know all the answers. Rather, he sets a great framework that makes creators question their YouTube strategy and goals and leads them in the right direction towards building their own personal plan for success. Each creator is different, and each creator's intentions on YouTube are different and Tim uses his years of experience to lead each individual down the right path towards achieving their YouTube goals. Great read!"
~ Megan O'Neill, Founder of TubeGeeks

"I was really to read this and it didn't disappoint. A very valuable read. No matter what your goals are on YouTube would highly recommend this ebook to any content creator."
~ Joshua Jacobs, YouTube Creator

"This little eBook is not to be judged by the pages themselves. The book is a very hands on guide to growing your YouTube existence. There are practical assignments that will show you how to become much more goal oriented and makes it easier to plan and reach goals. It does not matter if you are an active YouTuber or still have to upload your first video – the blueprint is the same, and equally as useful."
~ Jens Dalsgaard, YouTube Creator

"I have been on YouTube trying different channels for a number of years and the lessons Tim teaches in this ebook are ones I learned over years of stress and difficulty on YouTube. Anyone who thinks they are interested in YouTube should read this to get a snapshot of how to go about it and how much work it will actually take. I constantly get messages from fellow channels asking how to grow a channel and I could not have answered it any better than Tim. Thank You."
~ Ryan Scribner, YouTube Creator

"This ebook is practical, up to date, and easy to put into practice. I've read a lot of other YouTube guides, but this one gives me a step-by-step strategy to help identify who my viewers are, and more importantly, give them the videos that they are interested in."
~ Phil Mandley, YouTube Creator

"Read this book before starting your YouTube channel! As someone who is looking to start and build a YouTube channel, but had no idea where to start, this book was just what I needed."
~ Benjamin Beck, YouTube Creator

"'The Secret to Building your YouTube Audience' is a great read for anyone looking to explore the world of online video. I enjoyed reading the ebook and feel like I now have not only a more solid goal to work towards with my own YouTube channel, but a better understanding of the best strategies to get there."
~ Ashley Naylor, YouTube Creator

"This is a great resource. This book provides the resources and tools needed to get creators thinking about where they want their channel to be in the future and what they need to do to accomplish their channel goals."
~ Mark Metcalfe, YouTube Creator

"If you've committed to video to build your business or to expand your business model, you'll want to get this guide. Warning, if you're looking for a tutorial for fast money on YouTube, this will not be what you want. If you're ready to get serious and you need to have a guide with some weight to it, this book will work for you. What you'll want to be aware of is that this is the work of someone that's prolific in their video creation efforts. Therefore, his advice is sound and worth listening to."
~ Charles Harper, YouTube Creator
How Do I Get It For Free?
Just become a Video Creators Insider for free by signing up below! As soon as you confirm your email address, you'll get a download link automatically. I can't wait to send it to you!